A bill to sanction Russians implicated in the death of Sergei Magnitsky and other gross human rights abuses will be introduced in Parliament tomorrow (Wednesday, 6th December).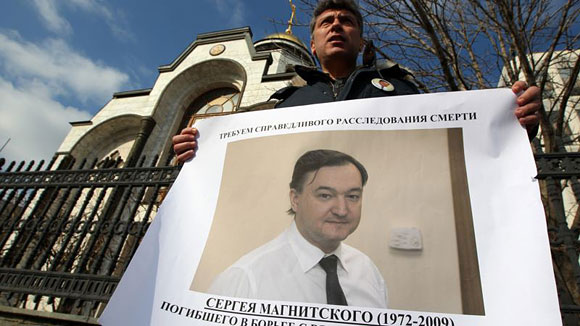 A powerful cross-party coalition of party leaders, former Cabinet ministers and select committee chairs are backing the Magnitsky Bill which will be introduced by Dudley North MP Ian Austin, who has been working with William Browder who has been leading the campaign to bring those responsible for Magnitsky's death to justice.
Sergei Magnitsky was a 37-year-old accountant who was tortured, denied medical attention, and died in a Moscow prison cell. He had been targeted by Russian authorities for exposing a US$230 million tax fraud involving high-level government officials. In the years since, several countries have passed Magnitsky legislation which sanctions Russians implicated in his death: the United States, in 2012; Estonia, in 2016; and Canada, in 2017. In the UK, a 'Magnitsky Amendment' was included in the Criminal Finances Bill 2017, but more could be done.
The new bill would give the government powers to sanction individuals who were found guilty of corruption and human rights abuse. The sanctions include visa bans, asset freezes, and public placement on a list of banned foreign criminals.
Those sponsoring Austin's bill include:
Former cabinet ministers Kenneth Clarke, Andrew Mitchell, John Whittinghale and Ben Bradshaw
Select committee chairs Yvette Cooper (Home Affairs), Tom Tughendhat (Foreign Affairs) and Rachel Reeves (Business, Energy and Industrial Strategy)
Party leaders Ian Blackford (SNP), Caroline Lucas (Green Party) and senior Liberal Democrat Tom Brake.
The Chair of Parliament's all-party group for Responsible Tax, Margaret Hodge
The Chair of the All-Party Russia Group, Chris Bryant.
The Chair of Labour's Foreign Policy Committee, John Woodcock.
Ian Austin said:
"Eight years ago Sergei Magnitsky died in a Moscow prison cell to prevent him exposing a huge tax fraud committed by corrupt Russian government officials, yet the people responsible have never been brought to justice.
"A coalition of senior MPs from all the parties, former cabinet ministers and select committee chairs has come together to demand the government acts to achieve justice for Sergei Magnitsky and prevent the UK being used as a safe haven for corrupt criminals and stolen money."
The full text of the Ten Minute Rule Bill is as follows:
Sanctions (Human Rights Abuse and Corruption)
Bill to enable the Secretary of State to refuse entry, or to vary or curtail leave to enter or remain already granted, to a person who is a non-UK or non-EEA national who is known to be, or to have been, involved in gross human rights abuses or in certain acts of corruption; to make provision for financial sanctions against a person who is a non-UK or non-EEA national who is known to be, or to have been, involved in gross human rights abuses or in certain acts of corruption; and for connected purposes.